In the Southern Hemisphere we have just started the 2022 school year! January can be a very difficult time financially for many people, and following the holidays, there is often no money left to put towards the costs of starting school. It's can be quite stressful to get kids ready with the supplies and uniforms necessary to begin school, and many children are not able to begin school when they need to for this reason. Thanks to an unusual and creative partnership, 67 children in Masiphumelele had everything they needed to get going this school year! Keep reading to learn more about this inspiring story.
For the last 5 years, Living Hope has been blessed by a unique partnership with an NPO called "67 Kids." 67 Kids was founded in 2015 by 4 high schoolers at SACS High School. Inspired by Madiba's 67 years of service, these 4 young men were seeking a way to give back to their local communities and in that spirit they began a annual fundraiser to equip 67 Grade 1 students with everything they need to begin their school careers, such as uniform and stationery. Their motto is: "Inspired by Madiba's 67 Years of Service We Aim To Give 67 Kids The Head Start They Need To Help Ensure 67 Bright Futures So That Those 67 Kids Have a Chance to Change The World!" Since it's establishment, Grade 12 students from the previous year pass the "baton" of responsibility to the Grade 11 boys that are chosen. These Grade 11 boys then begin the fundraising process anew each year, which is becoming quite the legacy of the school!
Last year in 2021 SACS pupils Edward Macheke, Greg van Selm, Alfred Beya, Matthew Hay and Emmanuel Rassou raised R80 000 (or $5000). Because of these boys initiative and hard work, they were able to then distribute uniforms, school bags, stationery and food hampers to children that Living Hope had identified as needing the most help at Ukhanyo Primary School in Masiphumelele last month. What a privilege it was for Living Hope to then be able to bless each of these children with enough to get their school year going.
These gifts were met with excitement at the Masiphumelele Baptist Church during the handover ceremony. Here are some of the photos from the distribution:
All the basics packed and ready to go to the kids!
This little boy became very emotional at receiving his items for school that he needed an extra hug from our staff member Nandipho. What a difference the items that many take for granted can make to a child! 
A little girl receiving her kit. 
Thank you SACS gentlemen for your care and concern for the children of Masi. 
Basic school supplies included in the kit.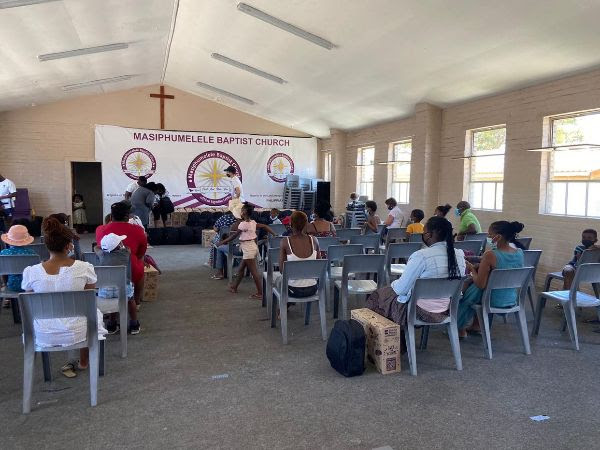 Parents attending the handover ceremony.
We are so thankful to the SACS boys for their commitment to Living Hope and for choosing to partner with us in this yearly project. We know that their task was not an easy one, and we applaud them for their dedication. Projects like this one give children a sense of dignity, self-pride and a confidence to work hard and align with Living Hope's year round Family Strengthening and Life Skills programming, in equipping children and families to overcome the many challenges they face because of extreme poverty. 
If you desire to make a difference in the lives of children facing poverty, please do see our banking details below or click the blue button to donate via our website. Programmes like these and many more are enabled because of your partnership! 
Regards, 


John V. Thomas
Executive Director
We would like to invite you to partner with us by donating to Living Hope before the 28th February. Donating to a charity of your choice has great benefits, both in terms of the reduction in tax liability as well as the contributions immediately invested back into your local community. You can give via our website or do an EFT directly into our bank account. (Details below).  It is important that this money reflects in our account by the 28th February 2022 so that you qualify for the Section 18a receipt for this financial year. So make the transfer now in order to qualify!
Account Holder: Living Hope – Call Account
Account Number: 62061847748
Branch code: 260 300
Bank: First National Bank
Type of account: Investment Account/Savings Account
Reference: Your email address
OUR MAILING ADDRESS (RSA):
Living Hope
P.O. Box 1700
SUN VALLEY
7985
We are a registered PBO that can offer a Section 18A tax receipt.  It is limited to 10% of your taxable income.
We can provide B-BBEE points for SED (Socio-Economic Development) and ED (Enterprise Development). We are thus able to offer you every possible benefit.
We are a Level 1 B-BBEE organization and a Category A Enterprise Development Organization which therefore gives your spend 135% value add.   We are a great place to give to and get something for your company in return.
N.P.O. Number:012-587-NPO
P.B.O. Number: 130001121
Living Hope Trust: IT 3028/2000