Do you need a breath of HOPE today? We encourage to read this update from our Recovery Programme! This is a fresh new season for the Recovery Programme and they are reaching RECORD numbers of clients! We could not be more proud of this team! Leading this programme is social worker, Olivia Andries. Olivia came to Living Hope with "out of the box" and "out of the building" thinking! Her ideas have brought tremendous success to this programme in the last 18 months. Olivia manages her clients and her small team of just 7 staff as a loving mother. She and her staff are "loving the loveless" into Recovery and her approach is working! With 44 clients currently enrolled in the programme, we have reached an all time record number of clients in attendance! We are so thankful to God for sending these clients to us and allowing us to walk with them into the journey of Recovery.
We credit the current successes of this programme to some fresh interventions:
Reaching potential clients with word of mouth marketing: We are getting the word out there! One of the key successes has been asking our current clients to SHARE their story with at least one other addict. This way they can find others to bring with them to the programme!
New sites: Thanks to the faithful giving of donors like you, we have finally been able to take the programme to the places where clients live! Offering the programme in Ocean View, Retreat and Muizenberg means that more folks who need this programme have easier access to it.
Creating a safe haven: Clients coming to the Recovery programme have been deeply wounded. They have been spiritually, emotionally and sometimes even physically harmed by their addiction journeys. Many years of hard living has taken its toll. They come to our doors in deep spiritual crisis. Our goal is to show them the boundless love of Christ. A love that covers a multitude of sins. The Recovery programme seeks to be a place of peace and love that draws the clients into their recovery journey.
Intensive counselling and care: Olivia and her team create a "Personal Development Plan" with each client. This plan involves a long process of getting to the root issues of "what did this addiction do to your life?" They look back over each area of a client's life including relationships, inadequate support structures, addiction history, finances, emotional struggles, health and spiritual life. After these extensive interviews, the client and staff work together to set their own goals. These goals include the action steps of how they are going to achieve their goals in a reasonable amount of time. This type of concrete achievable plan is one of the biggest steps in getting clients going in their Recovery!
New exit strategies: By setting an "exit goal" with the clients, we are able to connect them to other organizations for after they graduate from our programme. This includes job trainings, job and volunteer opportunities and places to live.
Keep reading below for more stories and pictures from the programme: 
Pictured here in the yellow shirt is a very special client named Mario. We love getting to share Mario's story as it truly reflects the beauty of a life TRANSFORMED! Mario was deeply involved for many years in crime and gangsterism. Then after years in prison he found himself homeless and living on the street. Today he is clean, living in a Recovery shelter and has a job! We are so thankful for this MIRACLE!
During COVID, we have been getting many new clients from the court and prison systems as well as homeless shelters. Some partner organizations have even been able to cover the cost of transport to the programme for young mothers coming to our programme. Pictured here is a Social Worker and a Case Officer of Correctional Services and four of their clients that will be joining our programme.
The beautiful heritage building in Muizenberg where the Recovery Programme and the Charity Shop are located.
Group devotions, lectures and learning at the Recovery Programme.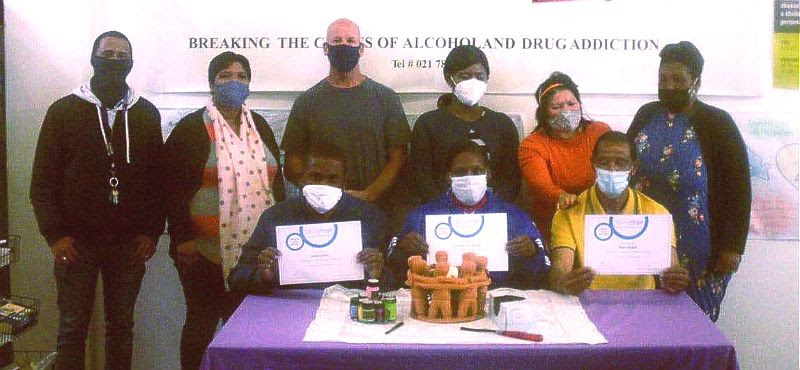 Graduation and Family Day is always a milestone moment for our clients! Getting to celebrate sobriety and reconcile with family previously hurt by addiction is a wonderful moment of healing!
Physical activity and training our client's bodies is always an important part of Recovery. We show them how capable they are of doing hard things!
An important day at the end of the programme of "burning the old habits of addiction" and "rising from the ashes" to start a new life!
We believe that God has called us to break the chains of addiction and we trust that you will choose to partner with us as we seek to reach more clients by "Bringing Hope and Breaking Despair" in addiction. We pray that you would be willing to provide the means by which we are able to keep this vital programme going!
You can help an addict be set free by specifically funding this programme. Just click the blue button below and choose Recovery, or visit our website at www.livinghope.co.za/donate. We ideally need people who can give monthly, no matter the amount. Now is the time to do it. Please do click the blue button below to donate securely via our website or see our EFT details below. You can also support our programmes by popping into our Charity Shop! Details on the flyer below!
Thank you so much for your continued support,
John V. Thomas
Executive Director Living Hope