It's the time of year when most organizations start winding down, preparing to take a break from the busy year, but Living Hope always has so much going on at this time of year that we aren't ready to press pause just yet! We finished our Giving Tuesday campaign, launched our End-of-Year fundraising campaign, have have been hosting multiple events including interventions against Gender Based Violence, an awareness day for World Aids Day on Dec 1st and finishing up our disaster relief distribution following three fires that occurred in Masi last month. We give glory to God for the many opportunities we have to serve. And we have an exciting announcement! Through God's provision of donations to our Giving Tuesday campaign, directly because of generous friends, we were able to meet about 50% of our Giving Tuesday goal of R380,000! We are incredibly thankful for each one who was able to give at that time.
In other news, we just finished hosting our annual Journey to Bethlehem experience which is free event to celebrate the start of the Christmas season! Living Hope puts on this live outdoor event each year in December, retelling the story of that very first Christmas and the birth of Jesus. Historically folk have walked from scene to scene. But last Sunday, with the help of our new tractor, they drove around the Capri campus and our farm, going to 7 different story stations, bringing to life the story of Mary and Joseph's travels, as well as meeting a few shepherds and angels along the way!
Here are some of the wonderful scenes from this year: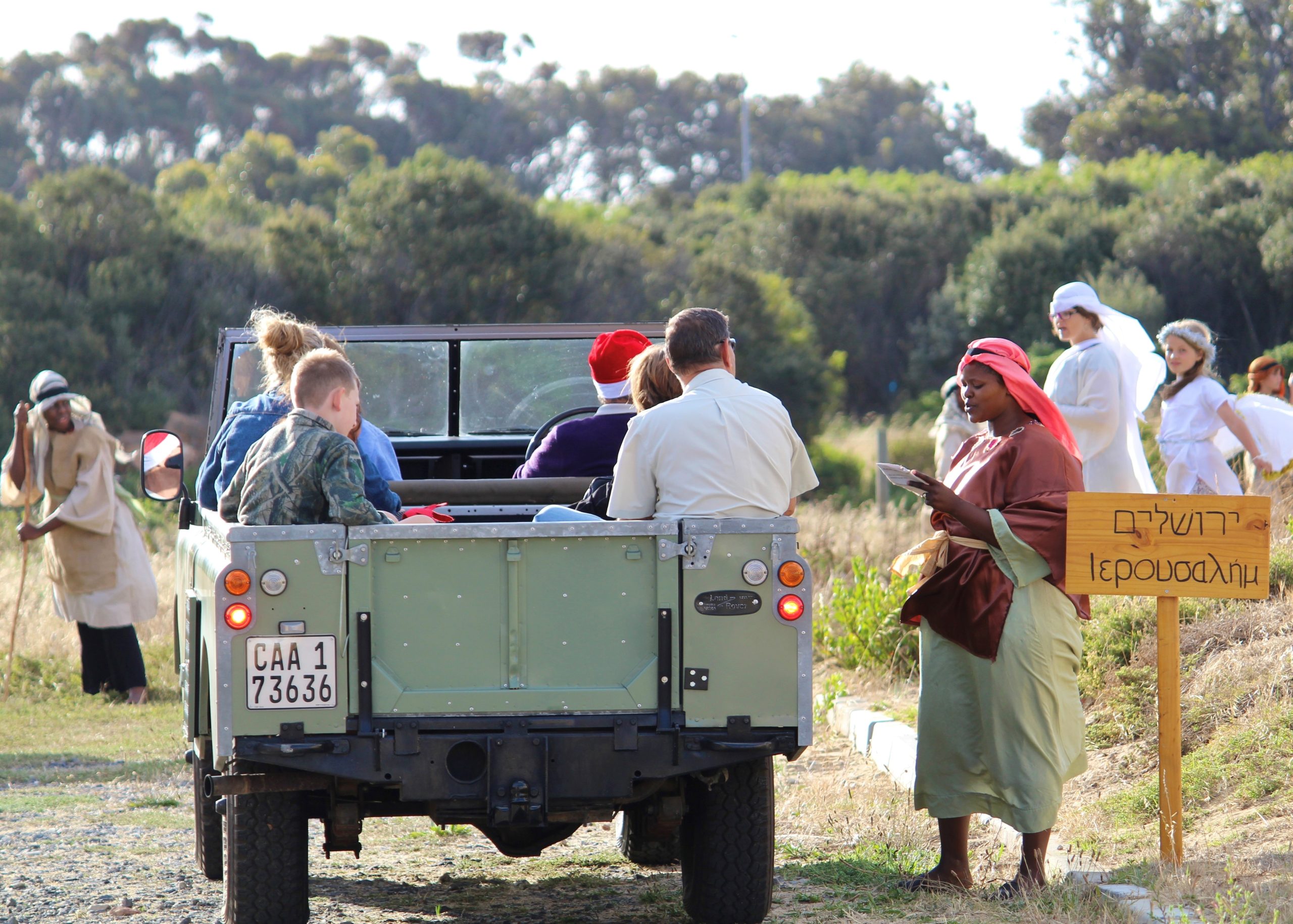 Each visitor has to "register" to go on the journey: In those days Caesar Augustus issued a decree that a census should be taken of the entire Roman world. And everyone went to their own town to register. Luke 2:1-3
The Angel Appears to Mary: "Do not be afraid, Mary, for you have found favor with God. And behold, you will conceive in your womb and bear a son, and you shall call him Jesus. He will be great and will be called the Son of the Most High. And the Lord God will give to him the throne of his father David, and he will reign in the house of Jacob forever, and of his kingdom there will be no end." Luke 1:35
The Angel appears to the Shepherds:
But the angel said to them, "Do not be afraid. I bring you good news that will cause great joy for all the people. Today in the town of David a Savior has been born to you; he is the Messiah, the Lord." Luke 2:10
The nativity: This will be a sign to you: You will find a baby wrapped in cloths and lying in a manger." Suddenly a great company of the heavenly host appeared with the angel, praising God and saying, "Glory to God in the highest heaven, and on earth peace to those on whom his favor rests." Luke 2:11- 14
The last scene of the "Journey to Bethlehem" ends with a message of what Christmas is really all about, followed by a beautiful carol service brought to us by the talented Jenny & The Jameses. A highlight of the evening following the carols is the lighting of our massive Christmas tree that can be seen along the main road. 
The Prophet Isaiah: The the Lord has spoken to me, "For to us a child is born, to us a son is given; and the government shall be upon his shoulder, and his name shall be called Wonderful Counselor, Mighty God, Everlasting Father, and Prince of Peace. His reign will never end." Isaiah 6:9
Joseph & Mary travelling: "So Joseph also went up from the town of Nazareth in Galilee to Judea, to Bethlehem the town of David, because he belonged to the house and line of David.  He went there to register with Mary, who was pledged to be married to him and was expecting a child." Luke 2:4-5
Joseph & Mary travelling: "So Joseph also went up from the town of Nazareth in Galilee to Judea, to Bethlehem the town of David, because he belonged to the house and line of David.  He went there to register with Mary, who was pledged to be married to him and was expecting a child." Luke 2:4-5
Calling of the Disciples: "As Jesus was walking beside the Sea of Galilee, he saw two brothers, Simon called Peter and his brother Andrew. They were casting a net into the lake, for they were fishermen."
"Come, follow me," Jesus said, "and I will send you out to fish for people." At once they left their nets and followed him. Matthew 4:18-20 
"The people walking in darkness have seen a great light; on those living in the land of deep darkness a light has dawned."
Isaiah 9:2 (NIV)