We are taking you on an exciting journey with the newsletter this month, and we hope you will come along for the ride… this journey ends with the start of Living Hope's next big building project and reaching more people!
Did you know that a 13 hours drive from Cape Town that we have a Living Hope branch on the Indian Ocean coast of South Africa? Living Hope has been working in the township of Mzamomhle, just outside of East London, in the Eastern Cape province of South Africa since 2014.  Over 40,000 people live in Mzamomhle. The grassroots work started in this area in 2008 as a local Baptist church initiative partnering with a U.S.-based church, Chets Creek, in Florida. What was a "pioneer" effort has become a long-standing, incredibly hard-working, and effective team, taking the Mission & Vision of Living Hope farther than ever!
We officially opened the Mzamomhle branch in April 2014, when Pumla Madliwa who worked at Living Hope in the Western Cape for more than ten years, was transferred to be the project co-ordinator of Living Hope Eastern Cape. Pumla has practical experience as a health care community worker, a Lay Counsellor, a Counsellor team leader, the facilitator of IACT and other HIV and TB-related education and is a qualified training facilitator. Pumla's deeply rooted understanding of the Mission and Vision of Living Hope has been the key to the success of this small branch in the last ten years. This year we expect to reach more than 10,000 people through the Mzamomhle branch. 
The Eastern Cape is quite rural, with little infrastructure. There are few schools and few health clinics. Accounts of growing up there are not the picturesque scenes of rural children laughing as they walk barefooted from school and women sharing news as they stroll to the river to draw water. Rather, the more stark picture is extreme poverty, 80% unemployment, and the country's highest child neglect and malnutrition rates. School shoes and uniforms are luxuries that families cannot afford. Most adults are forced to seek work far away in Cape Town. Social ills abound; HIV/AIDS, addiction, domestic violence, and crime are major problems. Critical services, such as water, government services, electricity, and sewage, are not readily accessible. 
Although the challenges are numerous, the opportunities to Bring Hope and Brek Despair are also abundant. Our vision is to see the Mzamomhle community and communities like it flourish! And as you will see in our architectural drawings below, we have big dreams!
Currently, our small team is supporting families through the following programs: 
Chronic Disease Support Groups, including HIV support groups, currently reach over 600 people per month. These groups aim to reduce new infections and support people in their treatment and adherence. 
1st Thousand Days Mom & Baby Support Groups where moms are taught the basics of child development, parent-child relationships and child health. Moms are also fed a meal at these meetings thanks to generous supporters like you. Last month we had 135 moms regularly attend these life-giving classes!
Life Skills Education. Crucial to life skills education is our after-school and holiday programmes, where we teach life skills and biblical values to over 300 children per week, providing them with a wholesome snack as well as parenting classes for their caregivers and food parcels to the most vulnerable families.
Below are some pictures from our Eastern Cape branch and some ways you can get involved: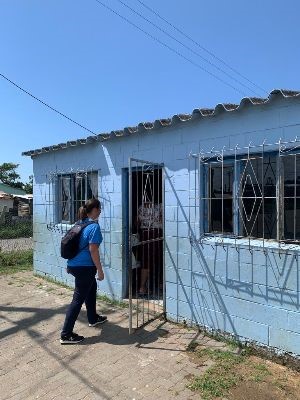 Our small converted house/head office will soon be replaced with a much more suitable and sizeable building to better meet the needs of the community. 
We are hopeful that the work of welcoming the community into Living Hope will carry on for many years to come in Mzamomhle. 
You can see from the picture that this small house is not big enough to host meetings inside. Almost all client activities need to take place outdoors. We are thankful that the new building is being planned. This small space isn't adequate to host support groups or after school clubs. We had upwards of 600 children attend a recent holiday club! We need space to grow!
These lovely staff members have been so committed to working in less-than-ideal circumstances with limited resources for a long time. Very soon this happy staff will have a much happier place to work out of!
We could not be more thankful for the incredible friends who see our vision for communities like Mzamomhle and get behind this work with funding, support and prayer.  We have managed to secure funding for nearly 90% of the building costs for what will become our head office in the Eastern Cape. The relevant city planners are still approving our building plans, but we are hopeful to begin construction before the end of the year! With plans for a kitchen for preparing community meals, flushing toilets with rainwater, a library, a large meeting space, space for offices, solar-powered electricity and Wifi, this building will launch this branch into a brighter future, preparing the families and children of Mzamomhle with much better services for their own brighter future. We invite you to pray with us that the building plan will receive the final approvals timeously. 
We cannot do, what we do, without people like you, and we are so happy to offer you the opportunity to partner with God and with Living Hope. Can you partner once-off or monthly to help support our Mzamomhle work or close the gap with the last 10% of the building fund? If so, you can donate by clicking the blue button below or visiting  www.livinghope.co.za/donate and choosing the Mzamomhle option or see our EFT details below. 
3D Rendering of the new building in Mzamomhle
Imagine with us what this building could be used for! We can't wait to hear over 600 kids singing and praising God inside of these walls.
Warmly,
Victor Thomas
Executive Director