One of the critical parts of Living Hope's mission is reaching those who are under-served. Did you know that across the world, people living with disabilities are considered to be one of the most under-served populations? 
Since last August, Living Hope has been running weekly support groups for clients living with disabilities. Each week across 4 communities, 49 clients are brought to mini-workshops. This group-time is prepared and led by a qualified Social Worker, trained Carer and Occupational Therapist. Each workshop is 3.5 hours long and includes a time of spiritual reflection, sharing, a nutritious catered meal, hands-on crafts, and an educational session tailored to the clients' needs. In many ways, these groups are an extension of the Church body reaching out to those who are often overlooked. Each week is an opportunity to meet practical needs and grow together in faith, friendship and belonging. To our clients, these groups have become a lifeline of connection, community, and support. Under challenging circumstances, these groups are helping our clients build resilience as they process their emotions, hopes, goals, and interests.
Most of our groups are made up of adult clients who were not born with disabilities. But rather because of tragic events or accidents, they became disabled in their young adulthood. Previously non-disabled young men and women suddenly and unexpectedly find themselves wheelchair bound or with significant physical limitations. This means that they may need considerable care or support for the rest of their lives. As you can imagine, these physical limitations can make everyday life very challenging. Some live with chronic pain. Almost all of them cannot go to social gatherings, and most have difficulty expressing themselves. Many are unable to meet their basic physical needs, unable to work, and live in very impoverished conditions without access to essential services. Many are left alone for long periods of time, very rarely interacting with others or leaving their small rooms. Caregivers can become neglectful or resentful over time or perhaps are overwhelmed by the needs of their family member with a disability. Many times the client's basic needs go unmet, and their health can quickly spiral into worsening physical, emotional or spiritual problems. You can see how discouragement, loneliness, and isolation can set in.
When I spoke to our staff on the Disabilities outreach team, I was so moved by their passion, commitment and patience. They are making an incredible difference in these individuals lives and it is made possible because of your partnership. This is not a "once and done" programme but a long-term commitment to those suffering hardships. Please pray for our staff to have creativity and patience, as they will be with these same clients for many years. Our staff members each spoke of their desire to nurture clients with disabilities in ways that grow the client's spiritual, social, emotional, physical, and intellectual development. They conveyed to me that they see this as being faithful stewards of the gifts God has given them and that they are simply reaching out with their talents and love. This is not a "project" for them but rather a way to help clients experience God's presence in their lives. See below for some photos of this programme in action and how you can help us in our mission!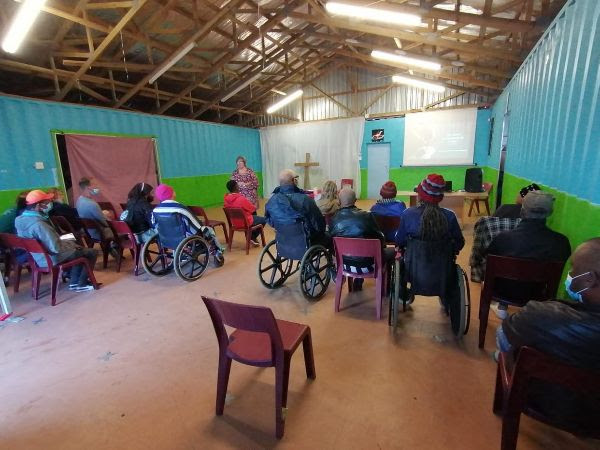 We recently were able to hold a beautiful Easter communion service for our disability clients. Most of them had not attended a church service in many years. Transportation and accessibility barriers often prevent them from attending church regularly, so this was an incredibly moving time of renewal and hope, as the gospel message was shared.
Clients sharing a meal together.
Christmas cookie decorating 
These lovely mosaics were one of the recent handiwork crafts completed at the group.
At each group meeting clients have a time of sharing their own stories and sharing a meal. We are so encouraged to know that our clients leave with their stomachs filled, their hope strengthened, and their hearts encouraged.
With many thanks to an incredible donor, our Health Care Centre was recently gifted with new electronic hospital beds. Because of this we were able to donate our older mechanical hospital beds to some of our disabled clients who were previously sleeping on the floor. The gift of the used beds to the clients was very gratefully received.
How can you help?
One of our biggest challenges is transportation. We do not currently have an accessible disabled van for transporting clients in wheelchairs. If you are able to donate towards a wheelchair-accessible vehicle please do please do click the blue button to donate via our website or see our EFT details below. Your donation today can make a tangible difference in the lives of vulnerable people living with disabilities and facing poverty!
'For I was hungry and you gave Me something to eat, I was thirsty and you gave Me something to drink, I was a stranger and you took Me in, I was naked and you clothed Me, I was sick and you looked after Me, I was in prison and you visited Me.' Matthew 25:35